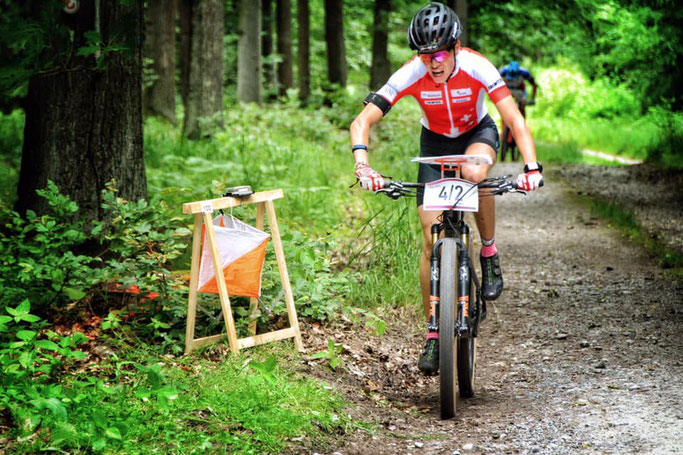 The European Champs are annually with 3 races each year, like a world cup round. This year, the Championships consisted of a Mixed-Relay, a sprint- and a mass start race.
The dates for this year's European Champs didn't suit me very well, as I missed some important lessons of the last semester week at uni. But I would never skip such important races just because of school. On Thursday before the Whitsun weekend, we took of in our car before 5am, as we had a 12h drive ahead of us. Luckily, we had no traffic jam at all till Poland.
The model event was scheduled for Friday. It was held in the same area as the mixed relay and the mass start race. So the model was very relevant for the upcoming competitions. We figured the terrain at the model event was very mudy, overgrown, had a lot of loose branches and was sometimes ploughed by wild sows. We liked these conditions, as the riding technique gets more important in such areas. Because off-track riding is allowed in Poland, there will be many very challenging route choices to be done.
I set myself the goal to just increase my last year's performances. So for the mixed relay, this means my goal was a medal, as we were 4th last year. I knew this goal was very high, but goals should be challenging and don't have to be achieved every time.
We had a great race, we were always on a diploma rank. But the first 3 nations pulled away early. The «big-3» (Czech Republic, Russia and Finland) were out of reach for us on this day. So were quite satisfied with our 4th place. Goal not achieved, but still happy!
The sprint race was the next one on the plan. It took place on Sunday in Wrozlaw, which is about 60km from Strezlin. The terrain for the competition consisted off a small city park with a hill called Killimanjaro, a horse race track and some sport stadiums. It wasn't big, but still enough for a mtbo sprint race. It was a very cool and fast sprint, the average speed was about 25km/h. At control number eight, I did a small mistake. I chose a slow route and then ended up facing a thicket. I decided to turn around and try another way to get out to the meadow. I lost about 40 seconds there. But as I was able to finish my race with a decent pace and no more mistakes, I still finished in the Top20, even with this time loss at control #8.
The final competition was the mass start, which took place on Whit Monday. The finish was just in front of our door, and the start was only 1km away. That's why the warm up and all the other preparation was a lot easier than the day before.
I really like mass start races. I love the head to head racing, when you're opting for different route choices but still get to the control together with other competitors and when people split up because of forkings and get back together afterwards. You never really know where you are in the field. So it was on this day. I haven't had a good feeling in the forest, I felt slow and thought I've not always chosen the best route. But I still ended up in a group which was fighting for the 4th place. Towards the end, the race went through a meadow with high grass. That's when my pollen allergy caused itchiness on arms and legs and I had trouble with breathing. I lost touch to the group. Almost at the finish, I catched up the last riders of the now very widespread group. I sprinted against the Swedish rider Viktor Larsson, and won the sprint! I wasn't last of the group and finished on place 13. My best ever world cup result! I was very happy!
All in all, it was a nice prolonged weekend with fair and high quality competitions. I'm happy with my results. Because of my studies I haven't had time for a serious preparation. So I'm hoping for even better results at the world champs in Denmark, as I will prepare very thoroughly for these races!
(photi: Laura Scaravonati, text: Adrian Jäggi)