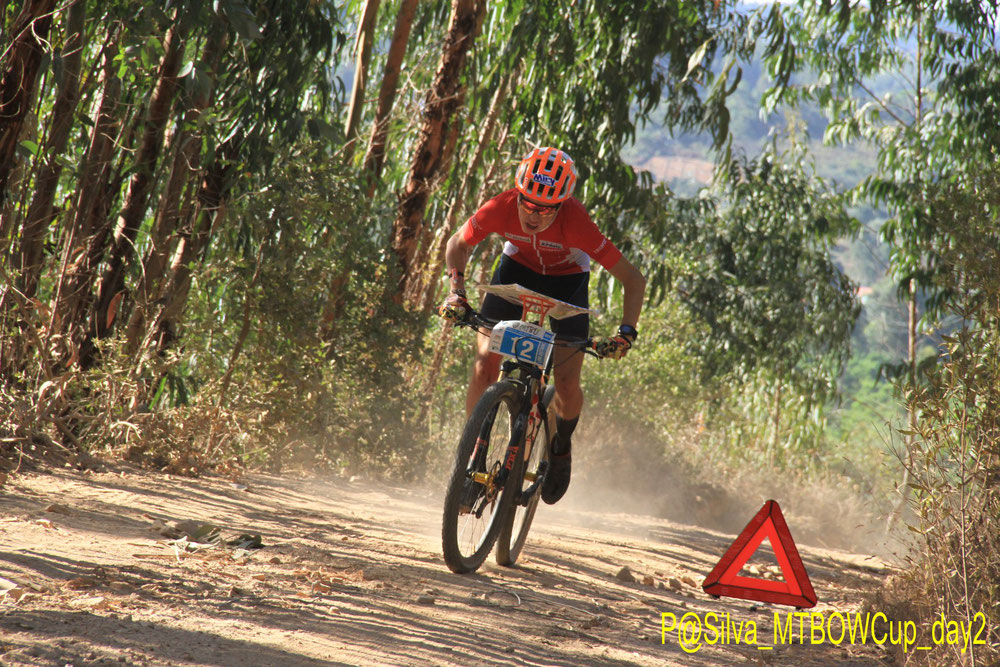 The final world cup round of 2018 took place in Odemira, Portugal. In the beginning of the week I started my studies (electronic engineering), but already in the first week I had to skip classes. I have to get used to make up missed work, because I will have to skip some more classes because of my sportive activities.
We flew down to Portugal on Wednesday, the 19th of September. The acclimatisation was more difficult than we thought, it was already significantly over 30°C when we arrived. On Saturday the thermometer climbed above 40°C!
We prepared for the competitions by riding the model events and studying the self-drawn maps. Friday was the day: The first competition of the 3rd round of the 2018 MTBO World Cup, the middle-distance race, took place. My starting position as the last rider in the late group couldn't have been better! Unfortunately, my race wasn't that perfect. From control 6 to 7 I chose a route which was a bit too risky and lost 3min to the split best time. This best time was realised just 50m away from my route. There was a small indistinct and unmapped trail through the bushes which allowed Ruslan Gritsan and Krystof Bogar to climb up the hill very quickly. Afterwards, I took a few suboptimal route choices and lost some more time. Towards the end of the race, I could feel that this wasn't my day and I reduced my speed a little in order to save some energy for the upcoming long distance of the next day. I ended up in the 28th position. That's not what I wished for, but it could have been worse.
In the long-distance race I had a lot of bad luck from the beginning. On my way to the 2nd control I had my first flat tire due to snake bite caused by a sharp rock. Luckily, I could fix it by putting in a tubeless tire plug I carried with me. Near control #5 my rear tire was flat again due to a second whole in the tire. Fortunately, it was small enough to be sealed by the tubeless milk, so I only needed to reinflate the tire with my second (and last) CO2 cartridge I carried with me. Shortly after, on the way to the 6th control, a spoke in my rear wheel broke. Happily, the wheel wasn't really deformed and I could keep on riding. After control #10 I had a crash because a branch of an eucalyptus tree got stuck in my handle bar. With a few scratches I still rode on. There would have been a lot of reasons to give this race but giving up was not an option for me! At the spectator control we could place some spare parts, so I swapped my rear wheel there, to get rid of the risk of more flat tires or broken spokes. Right after the spectator control I made a silly route choice mistake. Somehow, I still ended up in the 21st place, very close to a Top20 which was my goal. There were many DNFs this day, but I wasn't amongst these riders!
The final race of this year's World Cup was the sprint, which was held in the old town of Odemira, with many narrow streets and tight corners. It was a very demanding sprint, both technically and physically. I have had better legs than on this day, which isn't a very big surprise after the long and hard season and the very exhausting long distance the day before. Despite a small mistake of 40" to control #2 I made almost no mistakes and got safely through the race. I ended up in the 18th spot, which is my first top 20 result in an Elite World Cup!
Afterwards, we had 24h to pack our bags, enjoy the last hours of summer and to drive to the airport in Lissabon. We spent magnificent 6 days in Portugal, but now it's time to concentrate on school again. I'm already missing the warm weather and the MTBO family!
GPS Middle (mine wasn't working)
GPS Long (didn't wear a GPS)
GPS Sprint (was wearing one, but I'm not in the list, don't know why...)