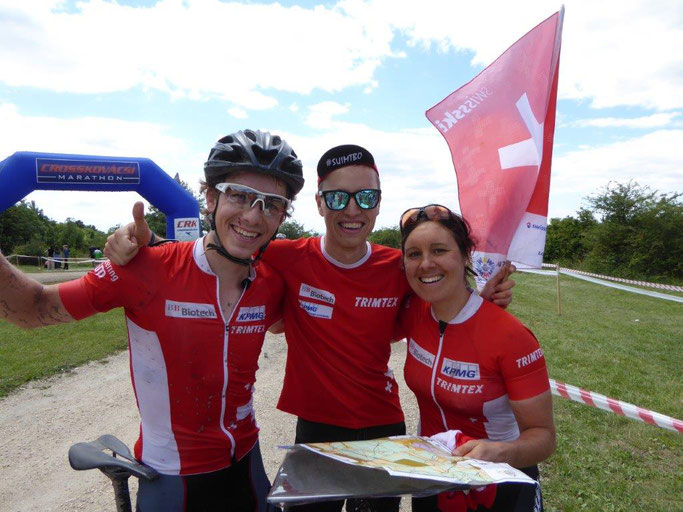 When everything, which possibly could go wrong, goes wrong...

This year's European Champs went absolutely not in my favour. Luckily we achieved a really satisfying result in the elite mixed relay!
I felt well prepared and traveled to Budapest with the good memories of last year's European champs. The first few days of preparation in Hungary were pretty good too. But as soon as the offical competitions started, the bad luck started to catch me.
In the sprint, I started with a few small problems. But after the first few controls, I started to get into the flow and everything went pretty much perfect. Until 10m before the control #17. Many pieces of glass were lying on the floor, one of them made small cut in my front tire, which was too big for my tubeless milk to seal it. For me, it was super annoying that something like this happens. I couldn't have done anything different, it was just pure bad luck. The most annoying thing was that I was the 3rd fastest at control #17, only a few seconds behind the second one. This could (should) have been a medal!
Next day - next chance, I thought. Again, everything was running smoothly and I was able to ride fairly fast through the deep and sticky mud in the long distance. The heavy rain overnight made the terrain a lot more difficult to ride, but I liked this challenge. I felt fast, I liked the terrain, the course, the map, everything seemed to be perfect. Until I realized at control #8 that there's no SIAC in my holder (which is purpose-built by Sport Ident!). I thought this can't be true and turned around to try to find my SIAC as quickly as possible. After very long 15 min I finally found it. But with that much time lost, I decided to quit the race. I'd rather safe my legs and my bike for the next day, when the middle distance was taking place.
Next day - next chance, once again... Thought wrong, once again. I probably just wanted too much. I was able to ride fast, my legs felt still good. But I was too fast for my brain. I didn't slow down enough at the tricky sections and lost the contact to the map too many times. That's why I did too many mistakes, one of them was to punch the wrong control. But even without the miss punch my result would have been aweful.
It was hard for me to realize that I couldn't finish one single individual race of this year's European champs without a dnf or a mp. I never had to experience anything like this, it was so frustratrating!
There was one last chance to safe my trip to Budapest: The mixed relay in the elite category. Our team consisted of Maja on the first leg, me doing the second one and Simon going for the last leg. Our aim was a Diploma. We just didn't want to go home empty handed. Together, we were able to achieve a very satisfying 4th place! It was such a big relief, as the European champs haven't gone in our favour before. Now I knew, I can deliver a solid run. Sometimes I just need to get some bad luck, to keep the balance. This is called Karma, and I believe it will give me some good luck at the world champs in Austria, taking place in 5 weeks! Hugely looking forward!
Photo: Ursula Häusermann