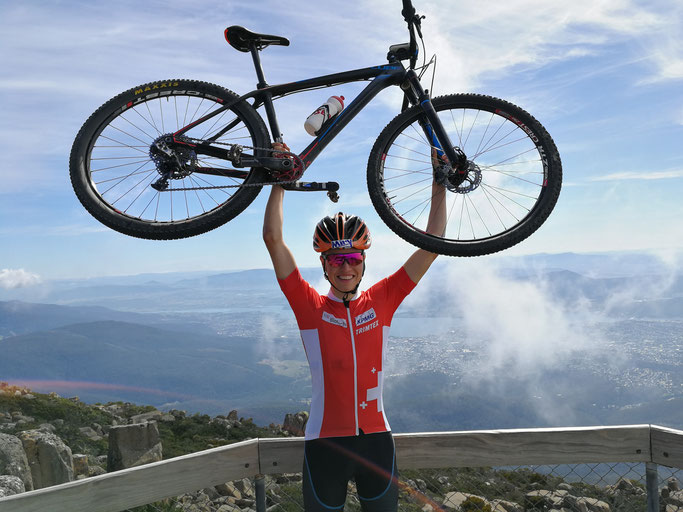 The year 2018 started in summer for me. Read my report of almost 3 months with heaps of riding, hiking, exploring nature and sights and meeting a lot of friendly people!
Snow - some like it, I don't. When it's cold and muddy and wet, it's often not really a pleasure to ride bikes...
This was one of the reasons I decided to go to Australia to escape from the European winter. And I think this was the best decision I ever did! I spent a super rad time in Australia with heaps of mountain biking, hiking, orienteering and sight seeing. All in always (really always) nice weather! There were about 3 days with more than 1mm of rain, in 3 months! It's just much more fun to ride bikes in summerly temperatures and I prefer to skid in dust rather than mud.
My trip started in Sydney, where the very friendly MTBO-family Mackie offered to host me, thanks! Unfortunately I caught a flu (probably on the plane) and wasn't able to ride as much as I wanted to, but maybe my body just needed some rest after some stressful months with work, training, wisdom teeth removal etc...
I did some sight seeing and just tried to recover as quick as possible.
After 1.5 weeks I traveled on to Melbourne, where I lived with another MTBO-family: Robinsons. It was great to have Angus as a training partner for some of the rides. He got junior sprint worldchampion just the year before me! We did some map trainings and trailrides together, I really liked to compare my times with a native Aussie who's used to orienteer in the dry and sandy terrain. Thanks Angus!
At the end of January I started a journey to the Australian capital Canberra. It's a nice and small city with heaps of mountain bike trails in riding distance! I picked perfect weather: It was sunny every day of my 2 weeks stay and often more than 30°, sometimes even almost 40°. I think I rode more or less every trail in Canberra, and there were many! The best bike parks are Stromlo and Sparrow Hill, I definitely recommend these parks to any riders spending some time in Canberra! On the last weekend I took part in the foot-o sprints, some very nice map trainings, but they also showed me why I rather ride than run, my knees and Achilles tendons started to hurt badly.
Back to Melbourne, I started an English course for 3 weeks. I met nice people from all over the world and improved my English skills (and learned some Aussie slang too).
At the end of February I started a road trip in Tasmania. I departed in Hobart, rented a car there and drove anticlockwise around the island. I stopped at national parks for hikes, mtb trails for rides and beautiful spots to just enjoy the stunning nature of Tasmania. Tasmania is about 1.6 times bigger than Switzerland, but has about 16 times less inhabitants. That means there's a lot of space for rain forest and jungle to grow. There are very beautiful and quiet beaches too, and the sunset are just amazing! See some pictures below!
I spent 3 days in Derby to ride the Blue Derby trails and one day at the brand-new gravity mtb park in Maydena. It was great to ride big bikes again, after riding exclusively on a hardtail for 2 months. And the trails in Maydena and Derby were just great, it's super cool to ride bikes in such dense jungle!
The 12 days in Tasmania were over far too soon, I wished I planned more days to discover more of the beauty of this unique island.
I flew back to Melbourne on Friday evening, because from Saturday to Monday there were 6 foot-o sprints in 3 days, all on very tricky uni/school grounds. Again some good map training, but once more my legs reached their limits, they're made for riding not running!
The weekend after, the Victorian MTBO Championships were planned. Unfortunately 2 out of 3 events were cancelled due to the very hot and dry weather which resultet in a total fire ban for almost all of Victoria. Luckily the sprint took place because it was on a private golf course where the owners allowed us to ride on even during the fire ban. It was a very tricky race on grassland, in forest with some mtb trails and with a very interesting course! I won the men elite class even though I did some very dumb mistakes. But I think nobody was able to do a clean (and fast) race, that's probably why I won with a more than 1 minute lead. It was a nice end to my perfect trip to Australia! I would have liked to stay longer, and especially now when I'm back in cold and rainy Switzerland I would love to go back as soon as possible, but sometimes you have to work too, sadly...
Some day I will come back, that's for sure!
Some photos (only the best out of 2000)