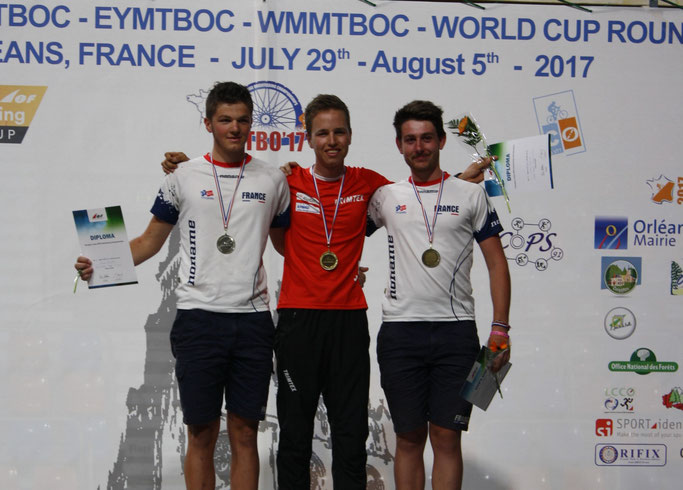 I had a very nice time at the Junior European Champs 2017! I headed back home with an European Champion title, a bronze medal and my first Diploma in the elite category, so I'm really satisfied with my performance this week!
I'm looking back to a successfull week of competitions in Orléans, where I achieved and learned a lot! I'm really happy with my 2 medals and my first Diploma in the elite category!
The Sprint was a relly technical one. Not the one with the fastest legs, but the one who could with the fastest brain won - Congrats to Thomas Steinthal! I took the 13th place and I'm not really happy about that, because the actual junior world champion should do better I think... ;D
On the tuesday, the 1st of August 2017, I wanted to do better. The speaker said already before the race that the Swiss team has to put on a show today, because it was our national day. I was able to do that, and I managed to win the middle distance even after more than 60" of mistakes with a lead of just 5"! This way our team could sing our anthem on our national day, what an outstanding moment!
At next race, the longdistance on thursday, I really wanted to prove my strength, not like the last year at the world champs. I managed to do so and took the 3rd place! I had a big mistake to the 2nd control which costed me about 1.5 minutes and I hadn't the best legs anymore, so I'm really happy with my bronze medal!
Now after the individual races of these European championships, there were 2 relay race left. I was selected for both relays in the elite category!
In the mixed sprint relay I rode together with Ursina Jaeggi in the team Switzerland 2. We raced fast legs and were able to achieve the 9th place only 2 places behind Switzerland 1! On the first leg I wasn't brave enough to go fullgas, but on the second leg I had pretty much a perfect run! With no mistakes and fast legs I was able to overtake both Austrian teams, a big success for me as a junior! It was a blast to ride like this in the elite!
My relay team mates and I wanted to achieve a Diploma, that was our clear goal. We knew that we had to beat some Nations which are often better than we are, but we believed in ourselves and achieved this goal with a 6th place! Beat Schaffner on the first leg had a solid race and sent me on the 12th position (9th nation) into the race. I was able to overtake 3 nations and handover to Simon Brändli in the 9th spot (6th nation). He could hold this position and we took home our Diploma, what a day!
This week was really awesome, many thanks to all my supporters. Most of all to my father, to VELO-ART.CH and to the whole Swiss team!
The 50 best Pictures of the European champs